The wineberry is in the Rubis family like the raspberry and blackberries. The wineberry is less seedy than the blackberry in my opinion, and has a sweet hint of citrus flavor. The berries ripen around mid-July here in Pennsylvania. The wineberries have hairy bristles (unlike the hard thorns on blackberries and raspberries), a sticky bright red-orange berry that is covered by a calyx, and a large leaf in the center with two smaller leaflets on each side that are a white color on the underside. This is an invasive and non-native berry in North America, and originates from Japan and eastern Asia.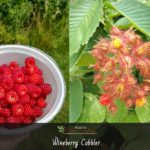 Wineberry Cobbler
Ingredients
3

cups

Wineberries

1 1/4

cup

Sugar

Juice from 1/2 a lemon

1

cup

Self-rising flour

1

tsp

Baking powder

1

stick

Un-salted butter

1/2 cup

2

tsp

vanilla flavoring

divided

1/4

cup

water

1

tsp

Cornstarch

1/2

tsp

ground cinnomon
Instructions
Add your berries to a container that has a lid. Add 1/4 cup of the sugar. Close the lid, and give the berries a light shake. Set aside for 1 hour.

In a 13- x 9-inch baking dish add berries, 1/2 cup sugar, 1 tsp of vanilla, lemon juice, cornstarch, and sprinkle cinnamon generously over the top. Stir ingredients together. 

Place the dish in the over for 10 minutes.


In a sauce pan bring the water to a boil.

Cut butter in to small pieces.

In a large bowl combine the flour, 1/2 sugar, baking powder, salt, 1 tsp of cinnamon (or more to taste), 1 tsp of vanilla, and butter.

Slowly add the boiling water and mix ingredients in to a batter.

Remove the berries from the oven.

With a spoon, carefully add scoops of the mixture over the top of the berries.

Bake for 30-45 minutes. Check at 30 minutes and continue until the top is a nice golden color, and the liquid is bubbling around the sides.

Remove from oven and let rest for 30 minutes.
Books on Foraging: (affiliate):
Edible Wild Plants: A North American Field Guide https://amzn.to/3hHAAne
Northeast Foraging https://amzn.to/305784q
Foraging Cookbook https://amzn.to/304frgU
Forage, Harvest, Feast: A Wild-Inspired Cuisine https://amzn.to/3hD69OX
Wild Berries & Fruits Field Guide of IN, KY, OH https://amzn.to/302akxC
Foraging with Kids https://amzn.to/2BDsrRi