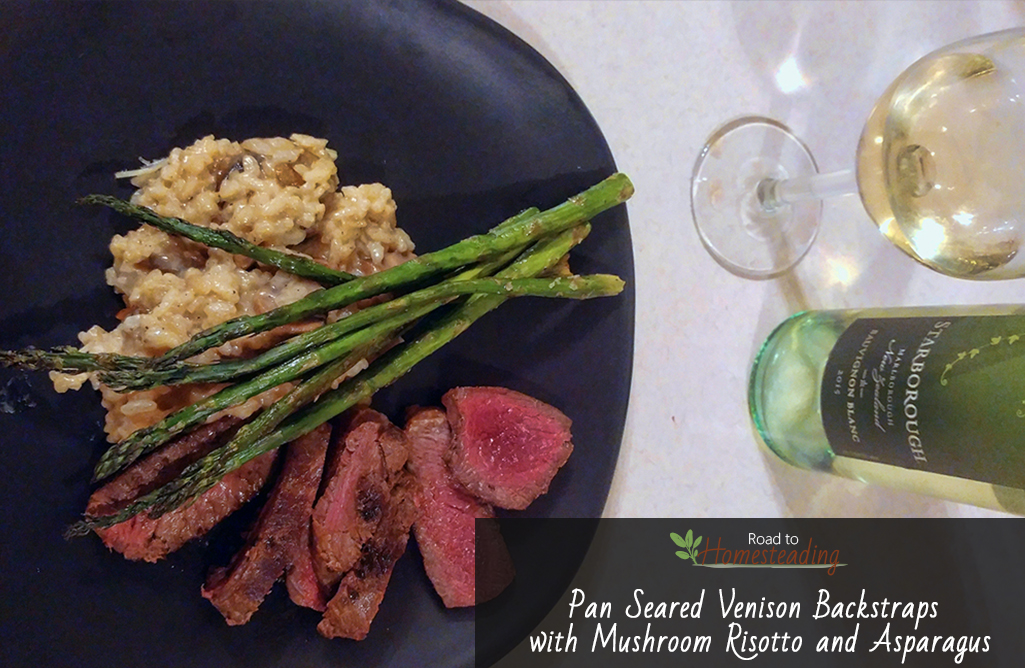 It's always a treat when we get venison on our table, and especially when it is the prized backstraps. I have to thank my good friend Aaron for this wonderful gift. It took me a while to decide how I wanted to prepare dinner for the venison. I had a few thought and even ways after I prepared this dish to do it better the next time around. I was going through the cabinets and notices I still had some Arborio rice from a few months ago where I made Risotto to pair with a New-York Strip, and I thought it would go nicely with the venison.
The only thing I really wish I had differently for the Risotto in this dish was wild mushrooms. You can use, and choose your own selection of mushrooms for this dish, or whatever you have at your disposal. And, I think the next time I would like to have a longer seasoning time on the meat or even marinate it with some red wine and rosemary. I think the red wine would pair nicely with the meat. But, overall this was a dish we really enjoyed, and look forward to improving on.
Ingredients
Mushroom Risotto
1

cups

Arborio rice

8

oz

crimini mushrooms

1

cup

shredded parmesan cheese

not the powdered stuff

6-8

cups

chicken broth

1

cup

white wine

1

tablespoons

olive oil

2

tablespoon

butter

1/4

cup

dices onion

salt & pepper
Venison
2 -

Backstrap Medallions

2

sprigs of Rosemary

1

tablespoons

olive oil

3

tablespoon

butter

kosher or sea salt & pepper
Asparagus
1/2

lbs

Asparagus

1

tablespoons

olive oil

salt & pepper
Instructions
Season the meat on both side with salt, pepper and rosemary. Let it sit while preparing the other dishes.
Asparagus
Place Asparagus on a baking tray.

Drizzle with olive oil, sprinkle with salt and pepper to taste.

Rotate the asparagus on the dish to cover thoroughly with oil, salt and pepper.

Place in oven and bake for 10-15 minutes, turning halfway though.
Mushroom Risotto (Risotto will take about 30-40 minutes to prepare.)
In a pot, add your chicken stock, and place on low heat.

In a hot pan add 1 tablespoon of butter, and saute mushrooms.

Remove mushrooms to a separate bowl.

Add 1 tablespoon of butter to the pan, and diced onions or scallions and saute.

After, add in 1 tablespoon of olive oil, and 1 cup of Arborio rice.

Stir the rice for about 2-3 minutes continuously, slightly toasting the rice until the edges have turned translucent.

Add 1 cup of white wine to de-glaze the pan. Stir until all of the wine is nearly evaporated.

Add in ½ cup of chicken broth in increments , stirring constantly. When the broth is almost compltetly absorbed by the rice, add in another ½ cup of broth, and repeat until the rice is al dente, fluffy, and creamy. This will take about 20 to 30 minutes.

Once the rice is done, Remove from heat, add in another ½ cup of chicken stock, the mushrooms and 1 cup of parmesan cheese, and 3-4 tablespoons of butter. Stir to incorporate.
Venison
In a hot pan, add 1 tablespoon of olive oil, and 2 table spoons of olive oil, and a sprig of rosemary.

Sear the venison for 3-4 minutes on each side (until you reach your desired temperature). Medium Rare/Medium is recommended.

Remove and let rest then slice and serve.